Our sealed bottom clear plastic tubes are the perfect solution to help raise funds for your charity or organization.
Sealed Bottom Clear Plastic Round Tubes
SBT
Our sealed bottom clear plastic tube containers are excellent for many types of point-of-purchase and consumer packaging applications including gift packs, toys, bath salts, sporting goods, craft/hobby products or any item that requires a plastic container that will stand out from the crowd. One end of a clear plastic tube is permanently sealed, which provides overall cost savings and reduced labor assembly costs.

Our sealed bottom clear plastic tubes and containers are available for Ultra-Thin Wall Round Tubes and Thin Wall Round Tubes. No matter what size or dimension, Cleartec Packaging can supply you with all your clear plastic tubing needs.

Our durable,
injection-molded
bottom is stronger and offers greater impact resistance than our competition's thin, thermoformed bottom. Increased visibility allows for complete visual inspection by the consumer, which inspires confidence in the product and increases sales.
ClearTec offers a variety of plastic closures for sealed bottom tubes and containers including
vinyl caps
,
vinyl hanger caps
,
polypropylene plugs
and
polypropylene hanger plugs
.
In addition to the packaging side, the added benefit is the end user has the ability to reuse these sealed bottom plastic tube containers for continued housing of the product.
Our Sealed Bottom clear plastic tubes are:
Extruded and cut to the length you require for your application
Durable and Strong
Reusable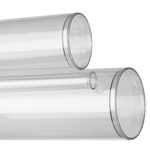 Our sealed bottom clear plastic tubes offer the strongest, most durable bottom seal in the industry.